Eurofurence 14 Con Report - by Jumpy (jumpy@furry.de)
Since I am on staff, at all the past Eurofurences I have had a somewhat different perspective on things. For me, Eurofurence had always been a blur of running around trying to fix things before the attendees even noticed anything, and squeezing in the events that I was involved with. This year the workload at my job left me with very little time, so I deliberately cut down on the number of tasks for the convention, concentrating on things where noone volunteered to replace me.
What was left happened to be mostly things that needed to be done before or after the convention, so for the first time I was left with the time to view the events as an attendee would, but with the added bonus that my staff position allows me to go some places and see some things that normal congoers never get to see. I took pictures of those areas too, but I hope you will forgive me that I mostly cannot show you those.
Tuesday, August 26, 2008 - Trip to Suhl, registration, and a crazy horse
We, that is Tabalon and I, got up early, loaded the car, and had an uneventful three hour drive to Suhl.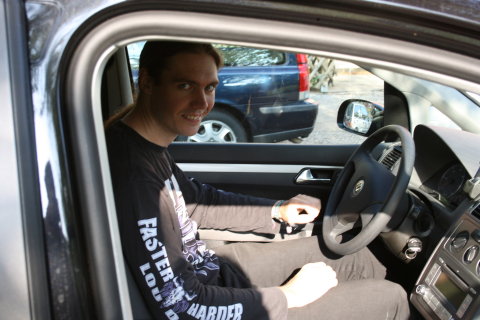 As last year, Eurofurence 14 was held at the Ringberg Hotel in the small town of Suhl, Germany. Or should I say on top of Suhl? The hotel lies on a hill near Suhl and it offers a stunning view over the forest that covers these hills even when the sun isn't shining.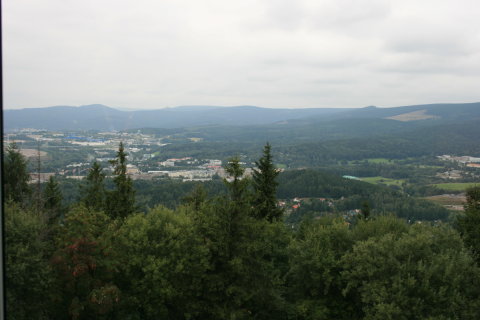 Once at the hotel, I quickly set up my laptop in the registration area, because Loewi and his team were waiting for their database server. Already, a queue was beginning to form outside the registration booth. If you were at EF13, you'll remember the glass blower shop and the plushie store. With these two no longer there, we had their combined space for registration, and finally a space that could be locked. As you can see, the ever-present Jägermeister had arrived before us.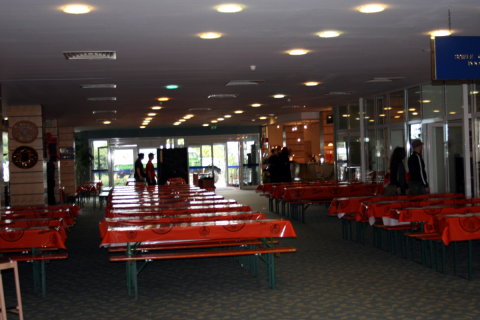 More precisely, they provided us with some equipment used at the bars plus a large number of benches and tables in exchange for a bit of advertisement.
In the meantime, my sister and her husband had arrived, so we joined them on a trip to the Crazy Horse, a great steak house that we knew from the year before. When you drive up the hill to the hotel, there are two attractions that you will inevitably pass. The local zoo, which I will come back to, and right next to it the Crazy Horse.
This small restaurant was invaded the previous year on the last day of Eurofurence when we picked it for the farewell dinner that we usually invite our guests to. When we announced that a party of 40 was coming, you could hear their gulp over the phone. Then 15 more decided to tag along, and we literally ate up their menu. When the last table tried to order, almost everything was out, but they still managed to feed us all. This year, they placed an ad in the con book and promised they'd be prepared for the furries, and they were. The steak was as good as we remembered it.
Back at the hotel, more and more furs had arrived, even though this was the day before the official start of the convention. Eurofurence 14 had a total of 770 attendees, and about half of those chose to book the early arrival option. Hence the need to set up registration one day earlier. Apart from taking lots of photos, I spent my time greeting all my old friends.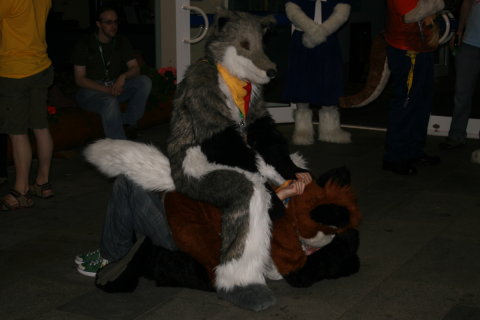 Gotcha!
The day before the convention is special in that the arriving furries mingle with the regular hotel guests, which very often seem to be either families with kids or old people. It is always interesting to watch. Some kids are scared or too shy, especially the younger ones, but mostly they just seem to want to play with the costumed fursuiters.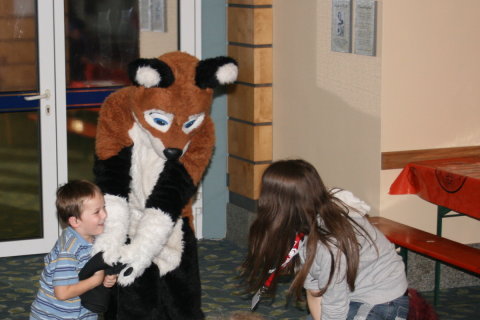 For the adults, reactions range from pretending not to see any of it to curiosity. We have rarely had negative reactions, really.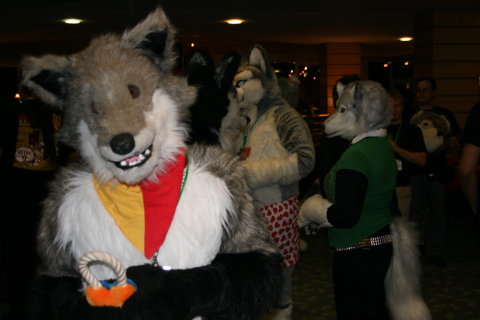 Wednesday, August 27, 2008 - Zoo, the Opening Ceremonies, and a BBQ
The next morning I barely missed breakfast, even though it was served up to 10 am. So I just had a sandwhich. When registration was up and running, I once again had some free time, so we decided to visit the zoo together with my sister and her husband. The zoo in Suhl is set into the base of the hill, just a short walk from the Crazy Horse. While the scenery is beautiful, the living conditions of the various animals vary widely. The wildcats and the goats had very beautiful, large areas with plenty of space to hide. So did the lynxes, which hid so well we did not discover them at all.
From the safety of its box, a wildcat kitten kept peeking out. Whenever it saw that I was still there, it hissed and hid again.
Life is not so good for the squirrels, their cage is rather small and they were mostly displaying the typical behavioural symptoms of being confined. Only two of them were curious enough to even react to us.
A lady from the zoo came visiting us at the hotel on Saturday, and apparently they are already looking for sponsors to improve conditions for their foxes. When she heard that this year's charity was the NFWS, she expressed hope that we might be willing to sponsor the zoo in Suhl next year.
Our visit to the zoo was suddenly cut short when we received a phone call that René was needed at the con site. He oversees the medical emergency team at Eurofurence, and had left Jörg, one member of his team, to keep watch. Apparently two dogs got into a fight and one of the owners tried to separate them and got bitten himself. So of course he needed transport to the nearby hospital, and that left the consite short on medics.
Meanwhile, at the con site, setup of the stage had continued. I have been sneaking into the stage area from time to take photos. It is always amazing to see just how much technical equipment appears out of nowhere in as little as 24 hours when the lighting and stage crew gets to work.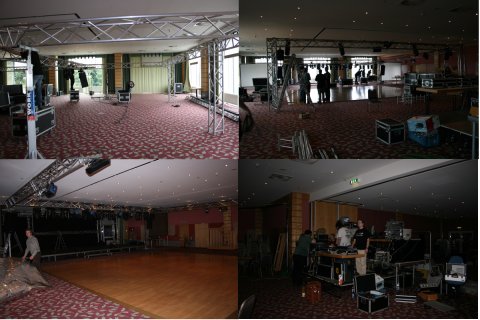 At the same time, more volunteers cover all windows with taped up aluminium foil.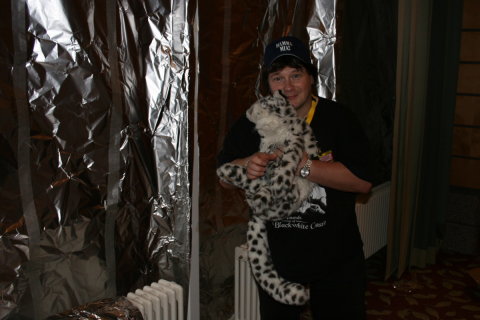 I must not shred the foil. I must not shred the foil...
And then it was time for the opening ceremonies, held outside the hotel. Cheetah gave a speech, welcoming our guests and attendees. He kept talking for several years (windchill time) it fairly short, but couldn't they have let the BBQ start already? What? What do you mean, no respect? We were starved! And you don't want to make a starved squirrel wait for its food, or all kinds of things will get nibbled on to see if they might be tasty.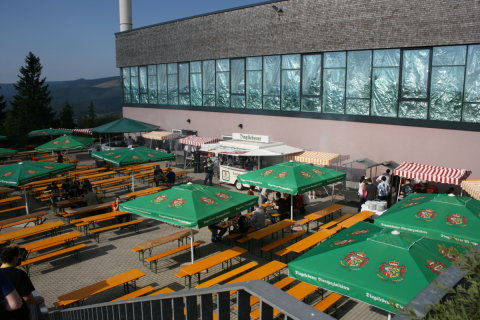 Ah, food. And the world is in color again. Zombie attack at 11.
The rest of the evening was spent with cocktails and a good story to read.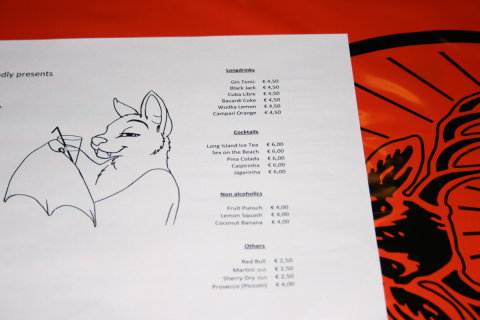 Thank thee, oh Hairless Master of Alcohol.
Thursday, August 28, 2008 - SIGs, Artshow, Dealer's Den, Stage Fever, Furdance
This time, I made it out of bed early enough for the hotel breakfast. I'm impressed with what they did regarding food and beverages. Last year, this was one of the few areas with which we were not completely happy, but this year it was perfect. No more pricey cups of coffee, a somewhat smaller selection but all of it affordable and very tasty.
More chatting and taking photos of fursuiters let the hours until noon fly by almost unnoticed. This year, we had well over 200 fursuiters, and I simply love each and every one of them to pieces. They're all beautiful, each in their own way.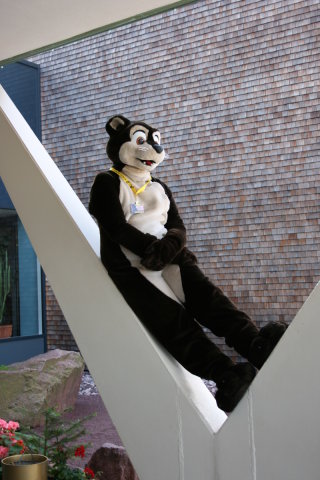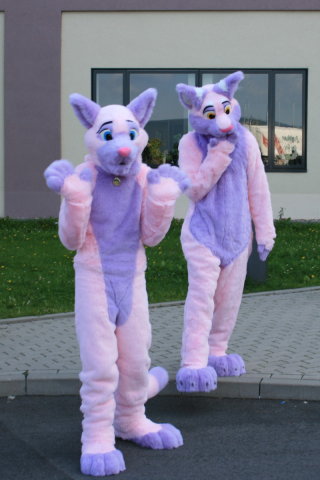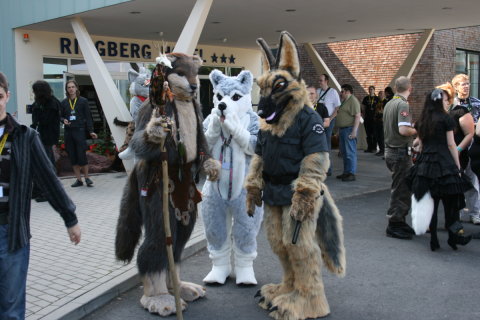 At noon sharp, I went to see the "Meet the Guests" panel. Blinked. And ran to Nightfox, who sent me to Cheetah, who sent me to Kage. Ah well, not everything starts on time. Thank the fairies for Kage, our impromptu I-fix-stuff person.
Anyway, with only a very slight delay, the panel got started and we had a chance to ask Watts Martin and Steve Gallaci about anything from their take on the fandom to their gardening habits.
I hope I managed not to fanboy at Watts Martin too badly. As Cheetah had told in his opening speech, it was one of Watt's stories called "A Gift of Fire, a Gift of Blood" that introduced him to the furry fandom. It happened exactly the same way for myself, with that same story. I found it on the net one day, linked to from a site I don't even remember, it must have been some time in 1994. I thought "oh my god there are others like me out there", and stayed up all night devouring the story. If you are like some of the younger furries at the con I talked to and you have no idea who Watts Martin is, you have missed something. Trust me, you want to read his stories at The Belfry Archive or (for the newer stuff) on his home page.
Since there were no panels that I wanted to attend during the next time slot, I had some time to have a look at the art show and the dealer's room. I picked up the newest books from the Blackpaw table, glad to have new stuff to read. I knew I'd have to return to the art show together with Tabalon to decide what we would like to bid on.
In the meantime, I helped out Cairyn, our artshow manager, with taking pictures of the large display stands that we had put up around the con site, so printouts of these could be hung in the art show, after all, they are original art, too.
Then it was time for the Author Reading panel, at which Watts Martin treated us to a section from his upcoming novel version of "A Gift of Fire, a Gift of Blood", the part from the end of the first chapter where Revar seeks out Mika in his appartment to find out what he wants from her. It's been about two years that I have last read the original version, but if I'm not mistaken there was some added or changed dialogue, but not all that much of a difference to the original version.
The second piece in the reading was taken from the newly released "New Fables" (ed. Tim Susman), a samurai story called "The Narrow Road in Morning Light". While I don't normally enjoy samurai stories so much, I liked this one. I especially enjoyed the description of the fighting scenes. It's not easy to create images of an action scene just from words, and in my opinion the story does a great job of that, providing just enough detail. I was somewhat reminded of another of my favourite Watts Martin stories, "Shattered Stone" (also available on his home page).
A couple of events on the main stage brought the evening to a close. First there was Stage Fever, a show with short skits performed by fursuiters.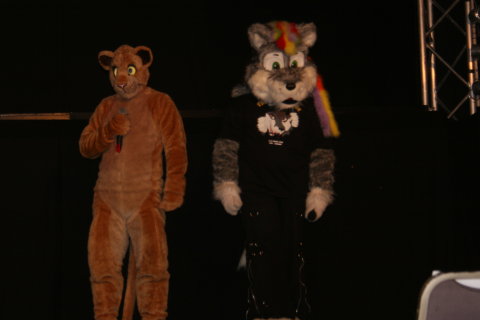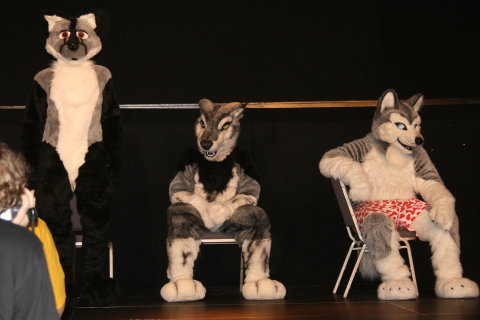 They ended the show with a list of things that can make your skit most original. Be sure to have at least five of those things in your skit if you ever have to write one.
Next up was the Fursuit Dance, which lasted well into the night. I took so many photos, sorting them alone took hours.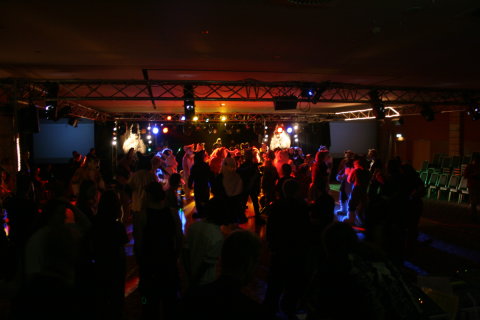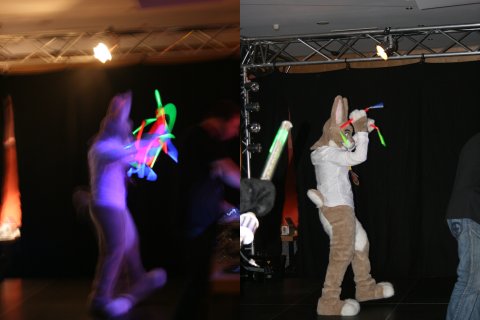 Friday, August 29, 2008 - Fursuit Game Show, Furry Music Café and Art Auction
I slept in a bit on Friday, so once again had to do without breakfast. Which didn't matter much, because right when breakfast ended there was ... brunch. Did I mention I loved the food this year?
When we were done with food, after some coordination mishaps, Tabalon and I went into the art show together, discussing some of the pieces. This made me miss most of the fursuit game show, but you cannot be in more than one place at the same time. So I wasn't all that disgruntled when it ran a little late, even though that cut into setup time for the Furry Music Café.
We decided to place our musicians before the stage with a circle of chairs around a space in the middle. Remember MTV's unplugged? Well, we weren't quite so good and not so very unplugged but still it created a nice and personal atmosphere.
Due to tragic personal circumstances, Chama was unable to attend Eurofurence this year. So Eisfuchs and I decided to step in, although we knew we would always be a poor replacement for our musical cape fox.
We did have our excellent team of waiters again, though. Unfortunately, my camera screwed up taking photos of all of them but one. Sorry. New Camera.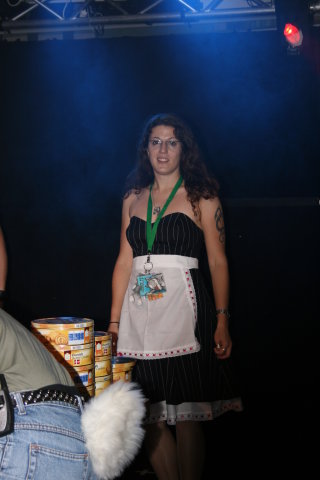 With some of our musicians missing, we were somewhat limited in what we could perform, so we began by playing a few old songs, like my own "Winged Angels" (mp3), Eisfuch's "King of your Pride", and Heather Alexander's "Never Lose Hope" in a somewhat reworked version. When we performed this song, I was very much pleased to find that AJA has re-gained his vocal range, while only adding to the power of his voice.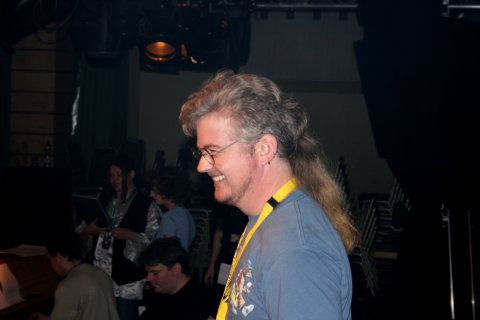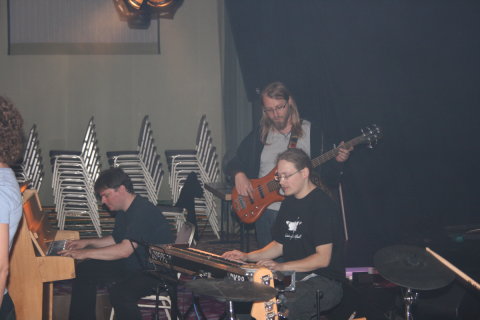 Then Kacy, Mark Treefox, and BlackFerret presented three original songs, all three of which I liked very much. It seems we found another female singer, and a good one at that. I'm sure the fauna project will eventually need her. But beware, it turns everyone it touches into a rock singer.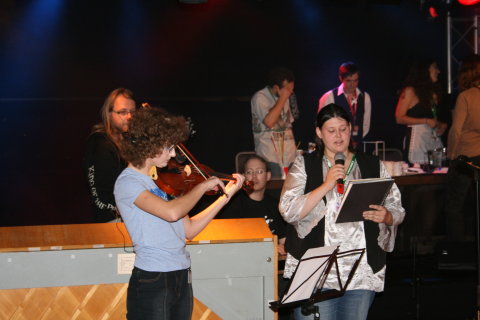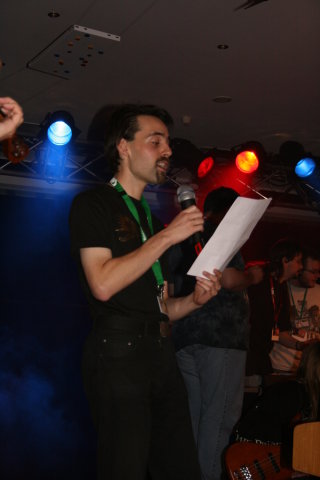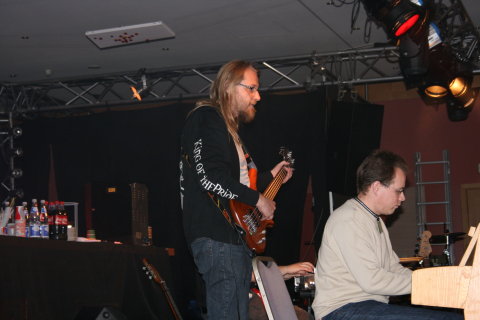 Of course, at Eurofurence even the music track is graced by the presence of fursuiters. Let me tell you, a set of fuzzy ears in the audience is great motivation.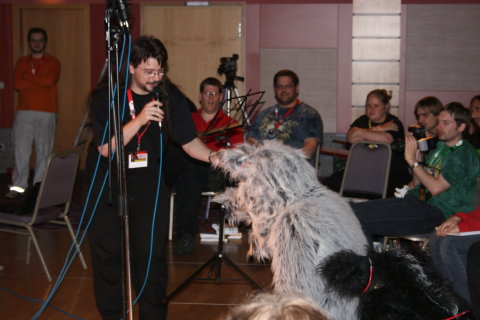 We closed with some more classics, for which we recruited drummers and guitar players from the audience, simply by word of command from Eisfuchs. They all had never played the songs before, and still did a great job.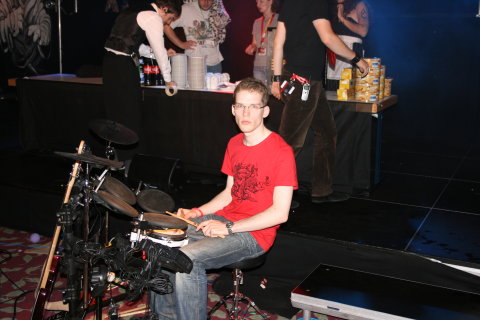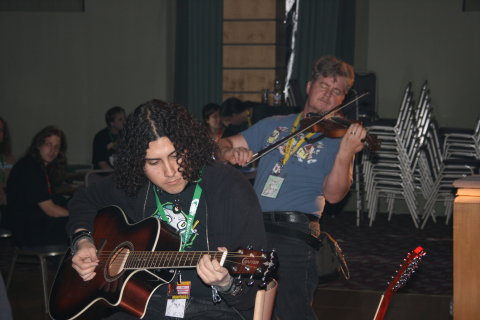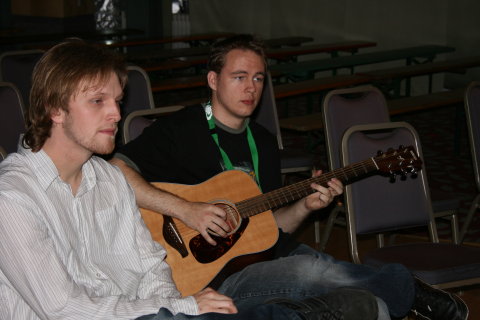 We also had the pleasure of having Fairlight playing with us again.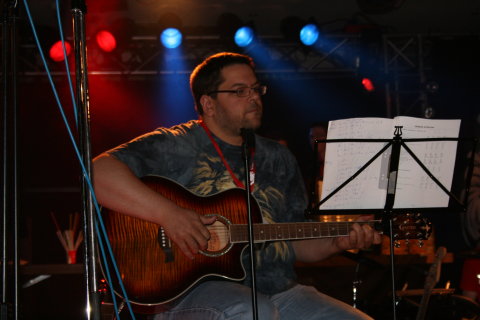 When we finally played "Furry Dreams", closing our show, we had run very late. We have to thank the folks who were supposed to set up the Art Auction for letting us use so much stage time, even though the stage was mainly occupied by a coffee machine and lots of cookies.
The evening program started out with the art auction, which finished on time despite housing some lengthy bidding wars. Naturally, I have no photos to show, although I will say that I have again gained a real beauty. Like all artwork that I would hang on my walls, it does not contain one particular color, and it tells a very emotional story of parting from a dear friend.
Finishing on time was important because up next was understand rapidly spoken English practice, more commonly known as the foursome of "Unkle Kage's Story Hour", Jibba, 2 the ranting gryphon, and finally all of them together. Kage told us about his eye surgery and zombie whales in Canada. Jibba, co-host of the 2 sense show and first time visitor to Eurofurence, explained some differences between ... white and black. 2 gave us an outline of the laws of Gryphonia. Among other things, he suggested that whenever someone takes a screaming kid onto an airplane, they should really be forced to listen to him screaming at the top of his lungs for the same amount of time, a proposal I can much sympathize with.
Saturday, August 30, 2008 - Fursuit Parade, AJA's Concert, Dreamcatchers
We slept in on Saturday, even though we had both gone to bed early. Which was fine because nothing much happened until around noon anyway.
I have mentioned the Hairless Master of Alcohol before. Well, you can see him in this picture. Can you guess who it is?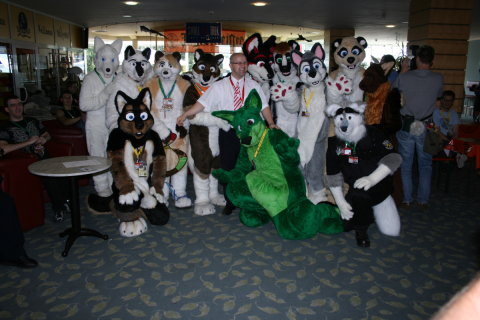 Okay, for those who haven't been to Eurofurence, I'll explain. Last year he ran the bar in the foyer of the hotel. Now, all employees of the Ringberg Hotel have nothing but welcomed us. We are very fortunate to be allowed to use such a wonderful hotel. It is simply perfect in all kinds of ways.
But Andre went even further. After EF13, he joined the Eurofurence web forum under the name of "Hairless Master", and has since acquired a furry character. And I heard this time he tried his hand at fursuiting, quote "to find out what it's like".
During last year, he has been promoted to Service Manager, and he can sure be proud of the level of service his team achieved.
On Saturday afternoon I missed some panels due to several unexpected but welcome opportunities to talk to people I hadn't seen in a while, although I had originally intended to attend the game show and the writing seminar. But then I noticed that was at the same time as the fursuit parade, and I really wanted to take some photos there.
At 2pm, Mystifur led all of the fursuiters out to gather behind the welcome sign that the hotel had put up for us. The sign is long, in huge letters it said, "Welcome Eurofurence 2008". But the fursuiters would not fit behind it. I have already posted a photo of the whole sign above, so I'll just show you the part without the sign. The sign starts several kilometers off to the right from this shot, or something.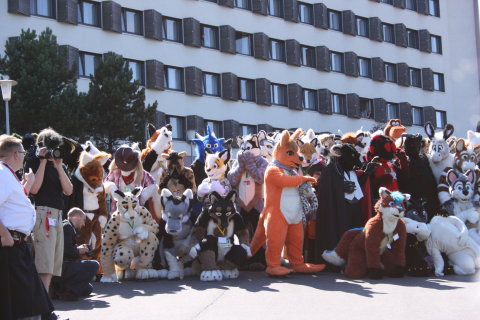 Then the fursuiters were led around the parking lot, and some were lost in the surrounding woods when they could not resist the temptation to go feral and make a living far away from all the hassles and niceties of modern civilization. It is hard to keep so many of them herded, I suppose. But those who followed the beckoning call of the bell arranged themselves on the stairs leading down to the BBQ area and then on the balcony overlooking the forest.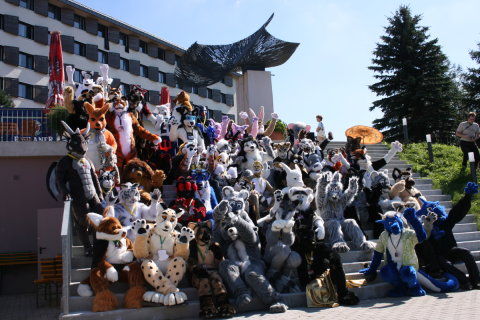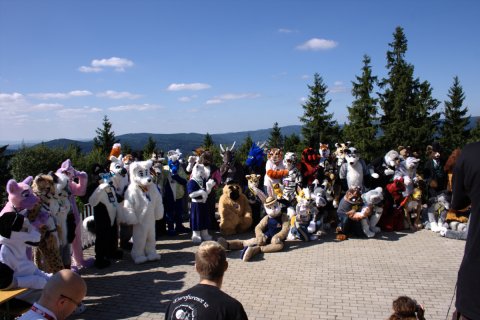 And with these images in mind I went to see Alexander James Adams' concert. There are no words to describe the power and beauty of his music anyway, so I will just let the images speak for themselves. Each of his songs tells a story, whether he choses to explain them or not.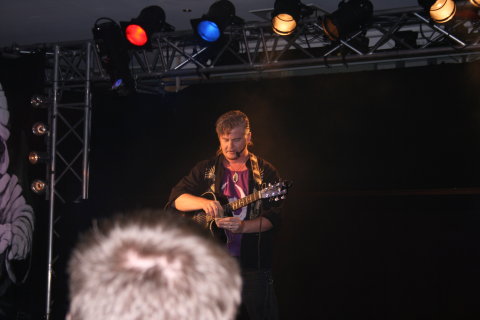 Alec played mostly his own new songs, but also some all time favourites like "Animals all the same" that he inherited from Heather.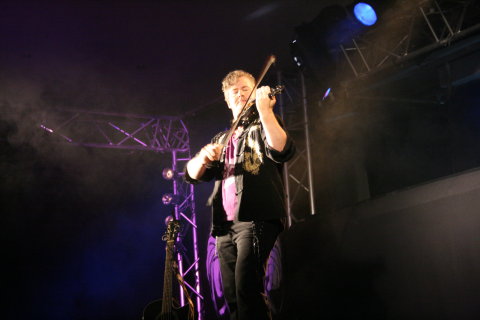 And once again fursuiters graced us with their presence.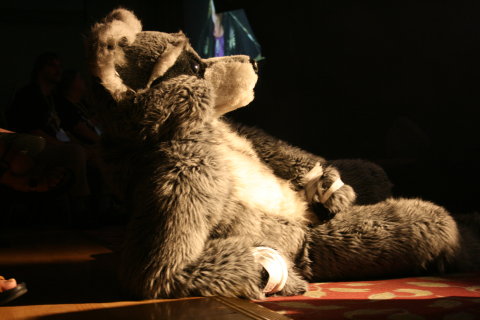 When the concert was over, I joined my sister, her husband, and Tabalon for some wine, cheese and french bread. They had gone shopping earlier and brought these. Apart from being very tasty, it was a much welcome change from the ever present hamburgers. I may not have been a staffer on full duty, but the single hour between panels and the evening shows somehow was too busy to try the a la carte.
Then we all went in to take our seats for the Pawpet Show, entitled Dreamcatchers. I don't know what I was expecting after being completely floored emotionally last year. I thought it was hard to live up to those standards, but the pawpet show team largely did, even though this year's show was different. It wasn't as much of an emotional rollercoaster for me, with no tigers being put to sleep this time, but I have a hard time saying which show was better.
I will post some pictures that hopefully do not give too much away storywise, for some of you might eventually want to watch it on DVD.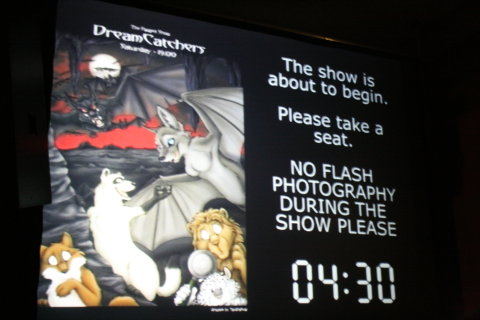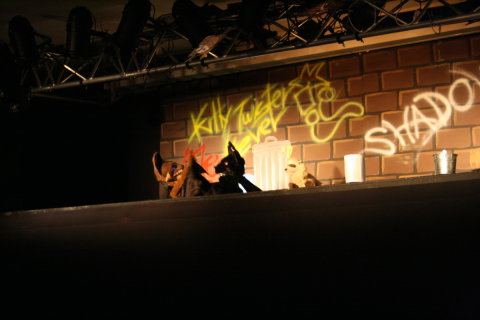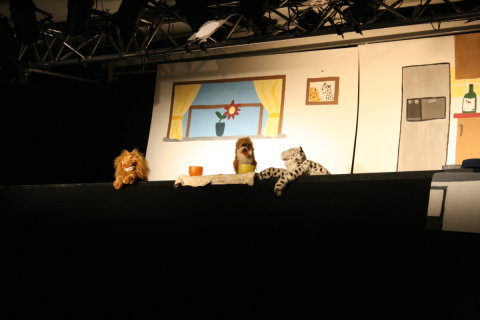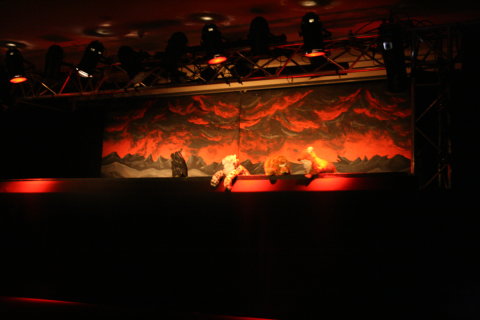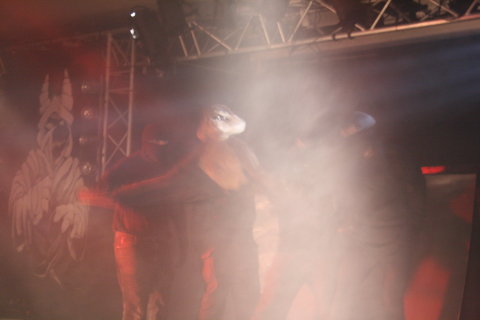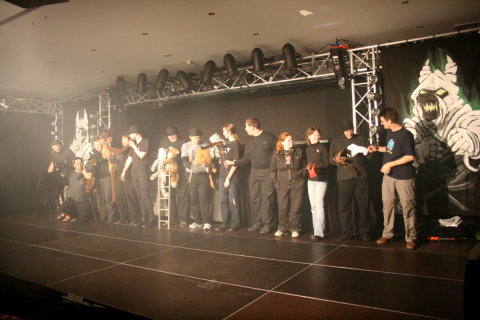 When the show was over and the applause had died down, the chairs and benches were quickly moved aside to allow the Big Blue Dance to start. I put away my camera and danced all night. So, even though the light show was again magnificent, no photos.
And that concludes my very short con report of Eurofurence 14. Why did it ever have to end?